New Life For 1967 La-Z-Boy
The venerable La-Z-Boy has long been considered the "Cadillac" of recliners. Original La-Z-Boys carried lifetime warranties. This one manufactured in 1967 is still in great shape; the frame is sturdy and the reclining mechanism works fine. Unfortunately, the chair's warranty doesn't cover things like padding and fabric. Every few years it needs a makeover.
A faded paper tag affixed to the frame indicates this recliner was last upholstered in rural Iowa more than 35 years ago. New upholstery is long overdue.
In addition to the frame and reclining mechanism, the no-sag spring bed remains in excellent condition, so we're able to reuse the original parts. While the structural components are fine, the foam, fabric and padding are shot. After removing and recycling the worn out materials, we cover the spring bed with a layer of fresh cotton batting. New polyurethane foam cushions wrapped in Dacron go on top, but before installing the cushions we get to work on the upholstery fabric.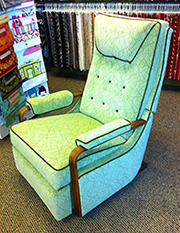 New Life For An Old "Boy"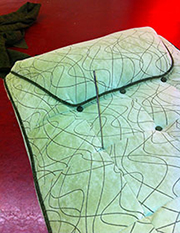 Fastening Custom Buttons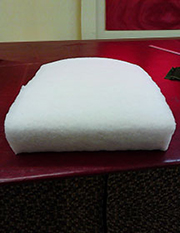 Polyurethane Wrapped In Dacron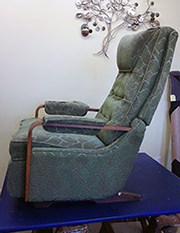 1967 La-Z-Boy
The fabric is a "Meadow" green, heavy-duty, nylon micro-suede. We select a dark green fabric for contrasting welt and buttons. The manufacturer, Charlotte Fabrics, describes the fibers as "non-directional", but we detect a slight nap in the fabric. As always, we're careful to align the nap "up and down" for maximum comfort and durability.
The Dacron wrap adds a couple of unwanted centimeters to the padding. After trimming the excess foam and attaching the buttons, the new cushions fit like a glove. The new upholstery energizes an old recliner.