Reupholster Chiropractic Tables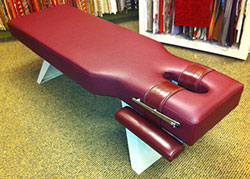 Chiropratic adjustment tables come in all shapes and sizes. The exam bench does double-duty as a diagnostic tool and adjustment platform. Because it's used so often, the exam bench wears out fast. Even the toughest vinyl won't last forever in a busy chiropractic office.
A chiropractor doesn't want to be without an exam bench, so quick turnaround and quality workmanship are important. Fortunately, reupholstering this sort of equipment can be done in a day or so.
Since a patient usually lies face down on the bench during an exam, the vinyl often wears out in the same place. While the damaged section may be limited, you have to replace the whole thing or the result won't be satisfactory.
We start with the padding. Polyurethane foam goes flat with frequent use. It's best to replace the padding every couple of years. This foam is still in pretty good shape, so we use steam to plump it. Steam restores the foam to its original shape.
With the padding back to normal, we size the upholstery fabric. Anything less than commercial grade vinyl won't do. It's important to properly fit the new upholstery because vinyl can sag and wrinkle unless it's pulled taught during the application process. Fitting the curves -- especially inside curves -- requires years of experience.
In less than a day, the newly upholstered exam bench is on its way back to the clinic. We'll probably see it again in seven or eight months.